Afrilogic's Monthly Hackathon – Where Great Ideas are Born
Afrilogic's monthly hackathons are festive holidays we engineers don't have to wait all year for. At Afrilogic Solutions Limited, we have a tradition of hosting hackathons on the last Friday of each month. So far, we've had three hackathons. We are reshuffled into new teams for each hackathon. This will assist us in being more innovative, developing solutions, and improving our teamwork abilities.
Previously, hackathons seemed like an entire day of nonstop coding, but after participating in this hackathon, we learned it is much more than that. A successful hackathon has multiple stages. The brainstorming stage is the initial stage. We looked at our resources and competencies and picked subjects based on those. We had a few themes on which we spent time outlining our pros and drawbacks, then we submitted our ideas to our CTO to receive his feedback before settling on a concept to adopt.
We all worked hard toward a similar goal: to build the next "Big Idea". Switching workspaces, working alongside new colleagues you normally don't get to work with, and (of course!) the food. Everything came together creating a special feel that isn't experienced on a normal workday. For this exact hackathon, there were three groups, namely, Team Nightingale, Team Smart, and Team FixAsap.
1. The Nightingale Project
Lena Dede Osei Appiah, Selorm Kegey, and Fiifi Foh Arkhurst Jnr made Team Nightingale. We came up with a solution for supporting patients in inquiries regarding their medical issues.
What is Nightingale?
Nightingale is a virtual technology aiming to make medical and healthcare services more convenient and accessible to everyone from the convenience of comforts. It's a chatbot-based virtual assistant collecting data and connecting people to healthcare specialists.
Technical Specification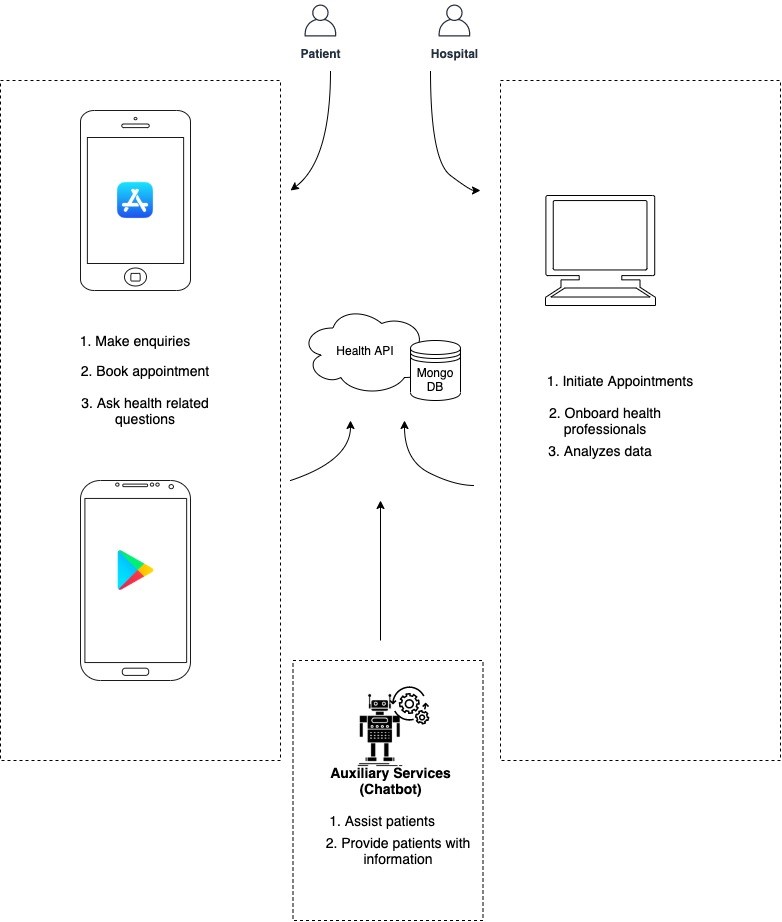 The personas and their roles are depicted in the figure above.
The Solution…
The User
Patients can use the software on their Android, iOS device, or on the web.
The Hospital
The hospital is the common denominator for both health professionals and patient's interactions. In circumstances where the chatbot is not able to assist, the hospital provides a sub persona (an admin) who helps patients with their concerns.
Auxiliary(chatbot)
This is an Artificial intelligence (AI) powered tool, to assist patients with information.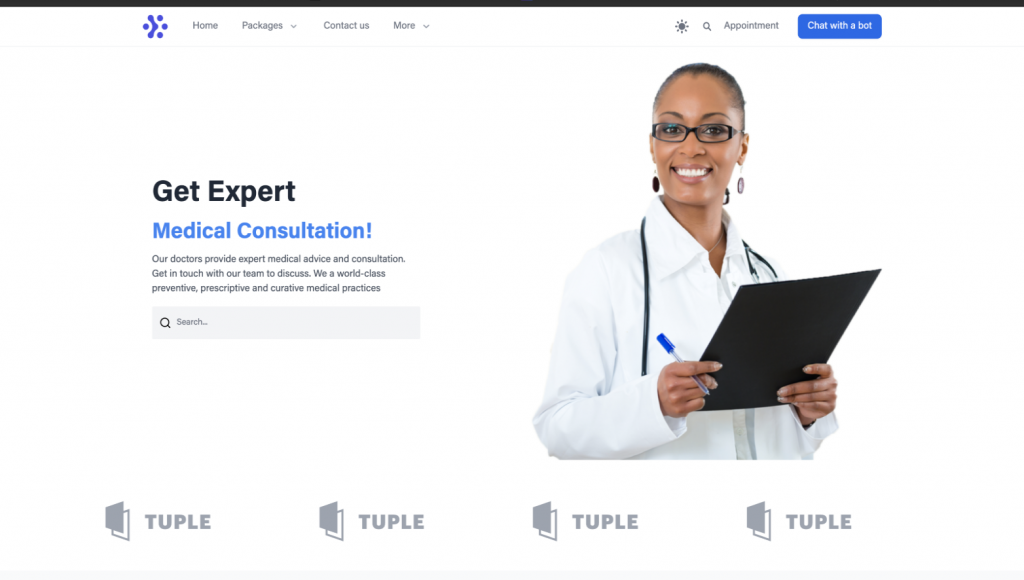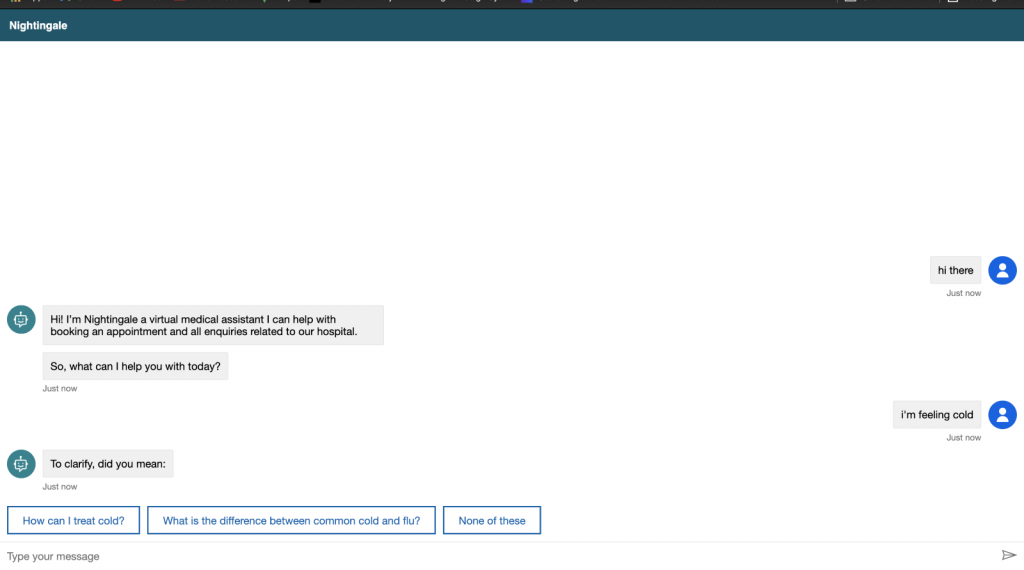 2. Smart Mail Box
Members of this project were Maxwell Amuzu, Eric Nana-Osei, and Kplolali Esi Ladzekpo.
What is the Smart Mail Box
The smart mailbox is an Internet of Things (IoT) device that allows users to receive real-time notifications when they receive mail.
How it Works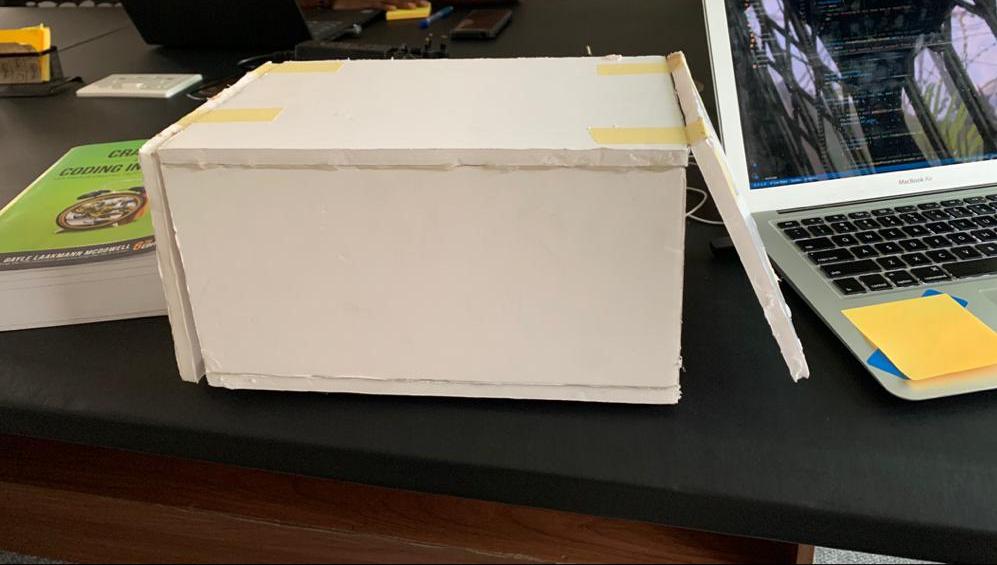 Basically, when the door is closed, the IoT DevKit is taped to it with a battery, and when opened, it rotates at a 90 degrees angle, which changes the Z-axis of the Gyroscope. It also uses a pressure sensor to detect changes in pressure.
We created a Device Template in Azure IoT Central with a Telemetry Rule that listens to changes in the gyroscope Z and fires an Action when the average is less than 900 (we worked this out by moving it around and testing). The "Action" makes use of an Azure Monitor action group that can send email or SMS!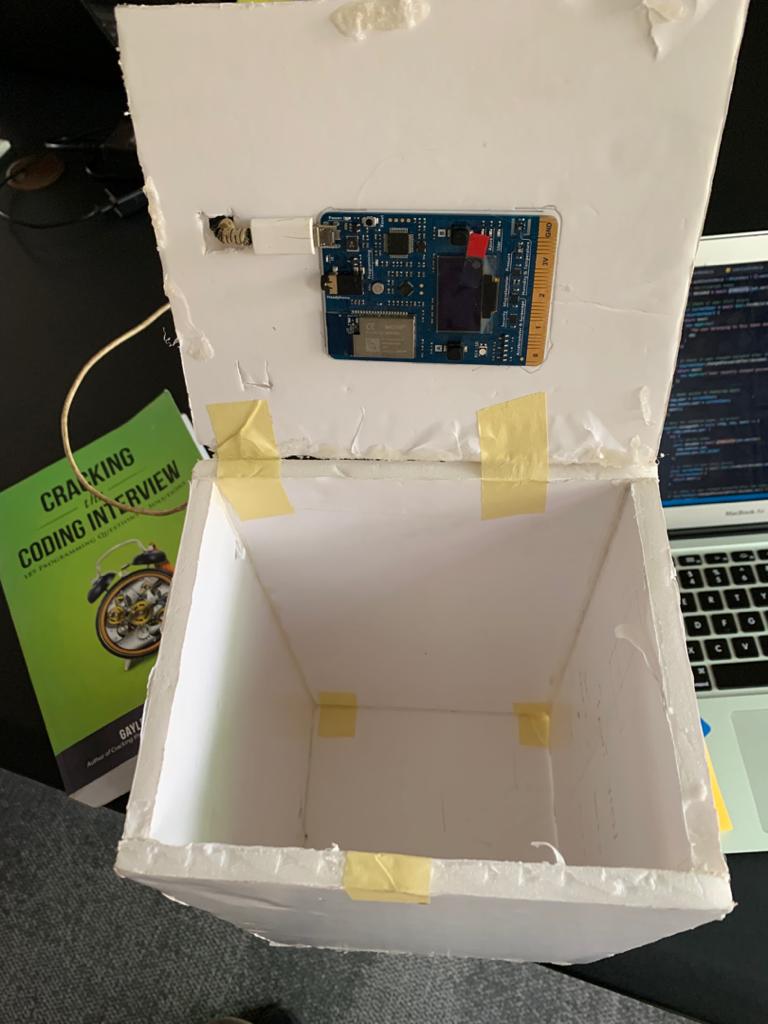 3. FixAsap
Members of FixAsap were Edward Adjei and Isaac Senyo Modzaka.
What is FixAsap?
In simple terms, FixAsap is a home (and anywhere) instant service provider application. Get Plumber, Electrician, Carpenter, Driver, Mason, Mechanic, Painter, Labor, Home Appliances Repair, Pest Controls, AC Repair & Servicing, and many other services in just a few taps.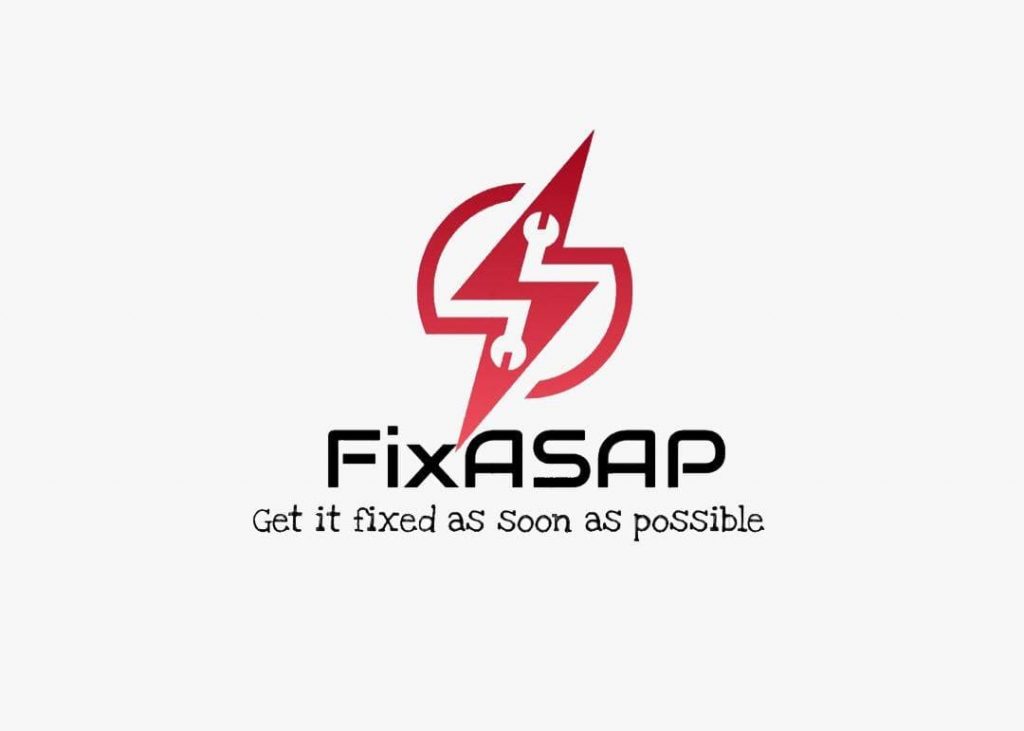 The lightning shape represents our idea of linking you with servicemen as fast as possible and the open-end spanners symbolize the category of services we offer—handyman services.
How does it work?
All the services will be accessible via our mobile app (for Android and iOS) and on our website. The main goal is to offer various types of assistance at the doorstep or anywhere to clients by handymen we call "Fixers". With FixAsap, your "Fixer" is at your fingertips. Just open the app, choose a category, and select a fixer who will you within the earliest possible time. Whether you're looking for a mechanic, painter, or any other service, FixAsap can help you fix your broken items regardless of your location.
See price estimates
With FixAsap, you can see your price estimate upfront before inviting the "fixer". This will give you a fair idea of what you'll pay before requesting a service.
Safety
To ensure that all onsite interactions are safe when our services are used, all "fixers" will be required to verify their identity and health before they are onboarded. Also, some of the fixer's details will be made available to the client so they share them with their family in an unlikely case of emergency.
Tipping & Rating a Fixer
After every service, a rating can be given along with comments. Also, fixers can be shown appreciation for great experiences by tipping them on the app.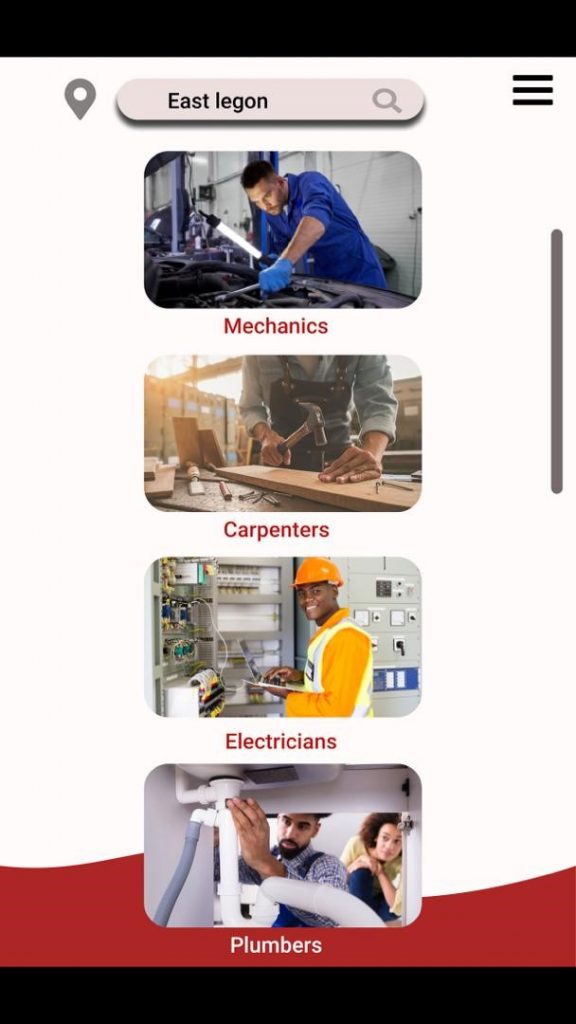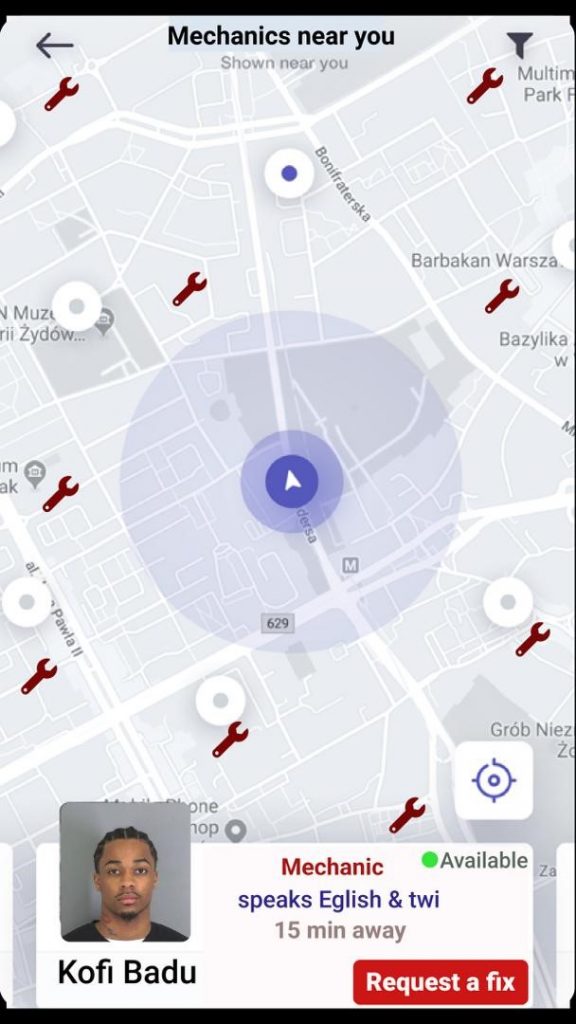 Pitch, Vote, Win 
Everyone left with half-finished projects and worked on slide presentations within minutes towards the end. Everyone was anxious to win (hopefully). The energy was intense. One could sense the thrill in the air! The breadth of "outside the box" ideas was remarkably diverse.
Conclusion
Afrilogic invests resources to provide teams with the tools needed to succeed in their purpose. This adds to Afrilogic's reputation as a cutting-edge technology firm.
If you're thinking about participating in a hackathon and you are not sure if you want to, go for it! The experience of having to construct something from the ground up in a week, from planning to execution, and collaborate with others, is beneficial, especially if you are just getting started with programming.